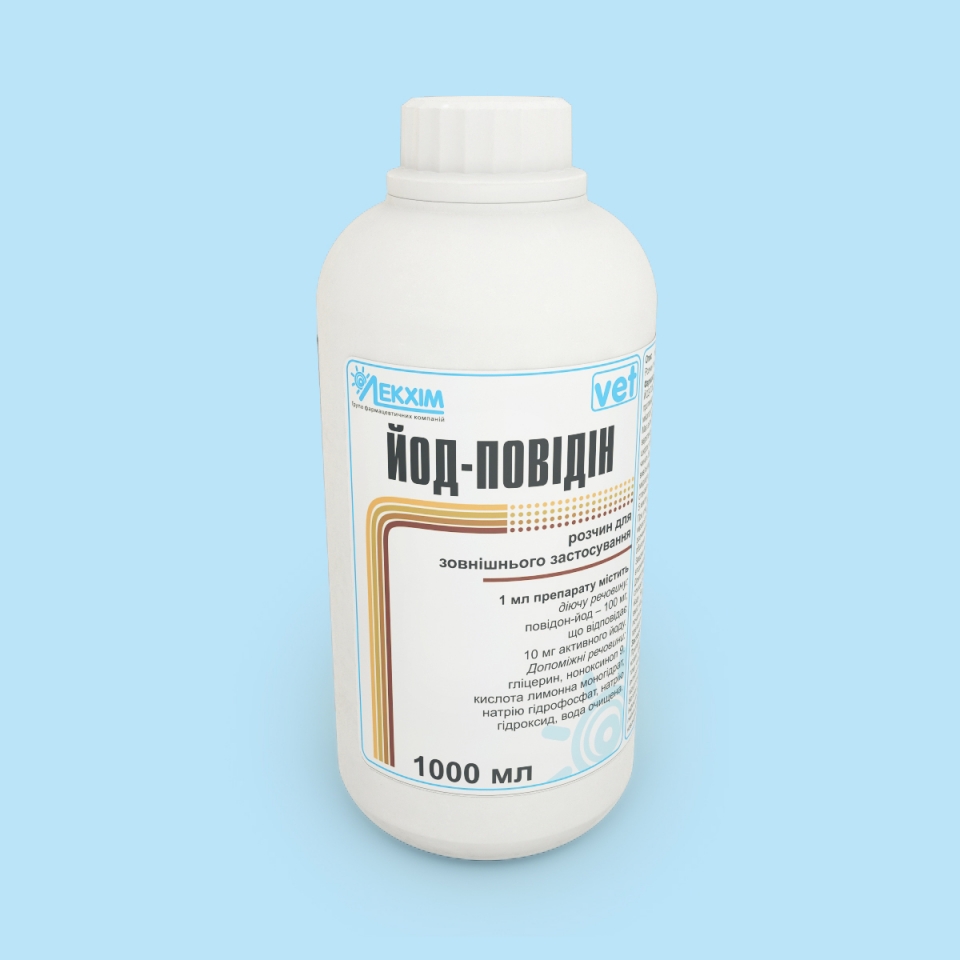 50 ml, 100 ml, 200 ml, 600 ml, 1000 ml
Dosage form
Solution for external administration
Marketing authorisation no.
АВ-07490-03-18
Pharmacotherapeutic group
Antiseptics and disinfectants. Povidon-iodine.
Indications
The drug is used for cattle, horses, pigs, sheep, goats, dogs, cats for antiseptic treatment of wounds, burns, ulcers, including trophic ones. For disinfection of hands (hygienic and surgical) and antiseptic treatment of the skin and mucous membranes, for example, before surgical operations, obstetric procedures, casts, biopsy, injections, punctures, taking blood. For disinfection and infectious dermatitis and fungal diseases, papillomas, purulent lesions. Can be used for treatment of umbilical cord in newborn animals, for disinfection of limbs with necrobacteriosis.
Contraindications
Do not apply to animals that are sensitive to the preparation or its components. Do not apply in case of abnormal kidney function. Hyperthyroidism and other disorders of the thyroid gland.
Pharmaceutical characteristics
Basic physical and chemical properties
A solution of dark brown color with a smell of iodine, without a precipitate.
Storage conditions
Dark, inaccessible for children place at a temperature from 5 °С to 25 °С.
Manufacturer
PJSC «Technolog».
Location
8, Stara Prorizna st., Uman 20300 Cherkasy region, Ukraine.