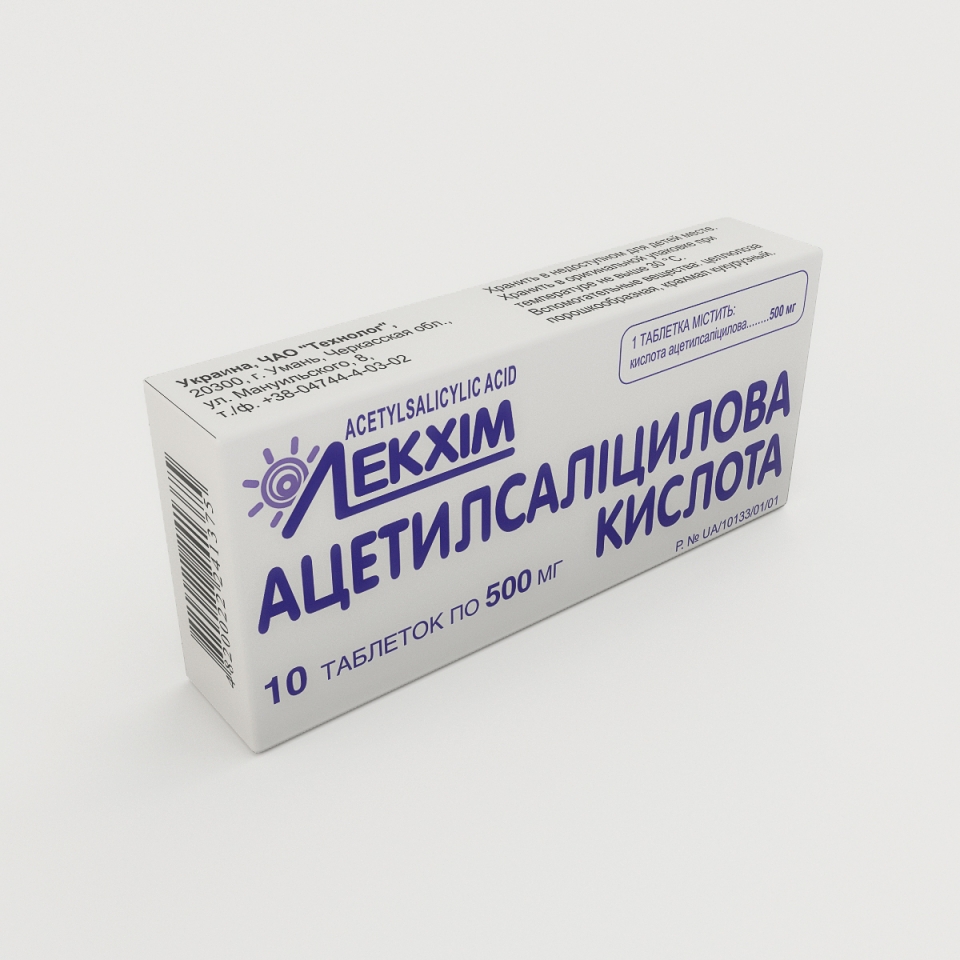 Лекарственная форма
Tablets
Регистрационное удостоверение №
UA/10133/01/01
Фармакотерапевтическая группа
Analgetics and antipyrectics. Acetilsallicylic acid.
Показания
For the symptomatic treatment of headache, toothache; sore throat due to colds; algodismenorrhea; pain in the muscles and joints; back pain; moderate pain resulting from arthritis. During a cold or acute respiratory diseases for the symptomatic relief of pain and fever.
Противопоказания
Hypersensitivity to acetilsallicylic acid, other salicylates, or to any component of the medicinal product.
Bronchial asthma caused by intake of salicylates or other NSAIDs in anamnesis.
Acute gastrointestinal ulcers.
Hemorrhagic diathesis.
Severe renal impairment.
Severe hepatic impairment.
Severe heart failure.
Combination with methotrexate in a dosage of 15 mg/week or more (See section "Interaction with other medicinal products and other forms of interaction").
III trimester of pregnancy.
Pharmaceutical characteristics
Основные физико-химические свойства
Single-layer round tablets, biconvex of white or almost white color. At fracture when viewed under a magnifying glass can be seen relatively homogeneous structure.
Условия хранения
Keep in the original package, at under temperature not exceeding 30 °C.
Keep out of reach of children.
Производитель
PJSC «Technolog».
Местонахождение
8, Stara Prorizna st., Uman 20300 Cherkasy region, Ukraine.