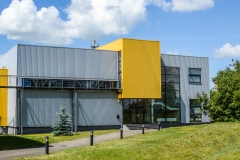 Export and import operations
Registration of medicinal products in EU countries
Promotion of LEKHIM Group products in the EU market
Marketing, advertising
Establishing of UAB «LEKHIM-VILNIUS» increases export capacity of the "Lekhim" Group of Pharmaceutical Companies, and it is the first step towards Europe.
UAB «LEKHIM-VILNIUS» assists in:
- improvement of business efficiency of the Group of Companies Lekhim in the European market,
- establishing of partnership relations with the leading European manufacturers of medicinal products
- certification of compliance of PJSC Lekhim-Kharkiv and PJSC Technolog manufacturing sites with EU GMP requirements and further registration of pharmaceutical products in Europe
UAB «LEKHIM-VILNIUS» was organized and registered in Lithuanian Republic on 28.01.2016, identification code 304170526. Company's legal address: Vilnius, r. sav. Didžiosios Riešės, k., Molėtų, g. 16, Lithuanian Republic.
Our certificates: