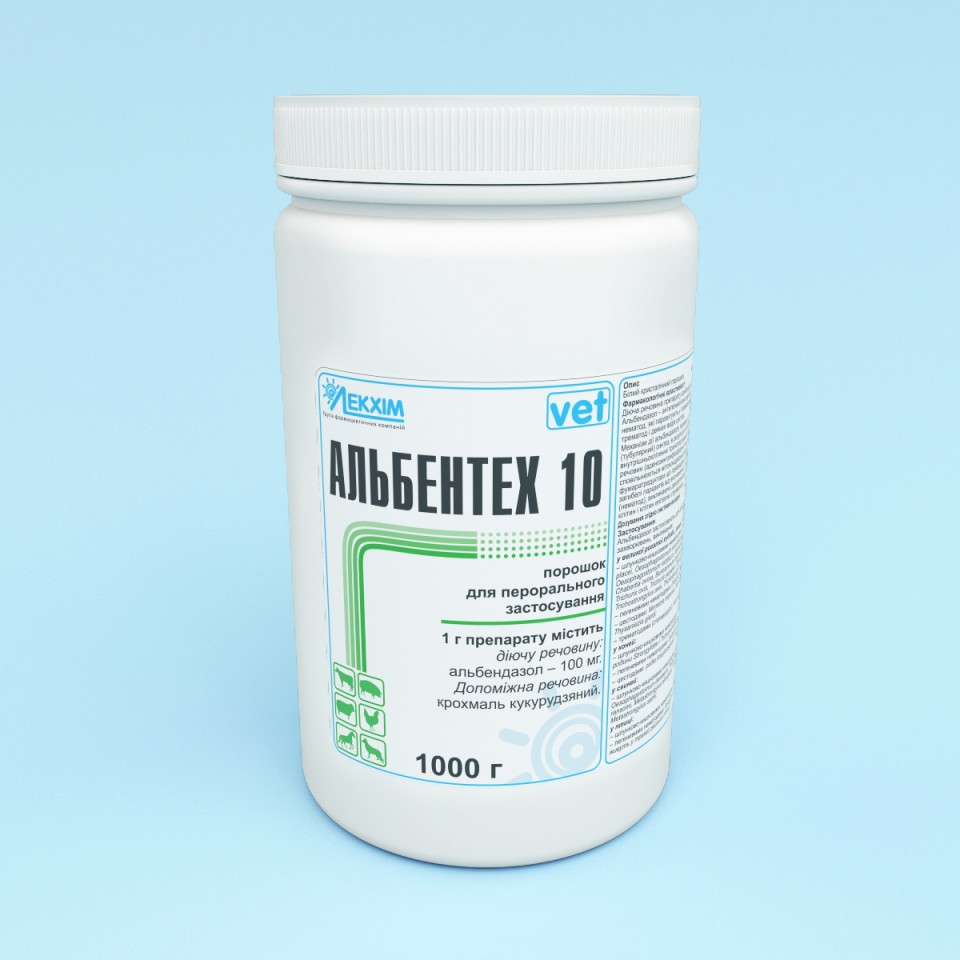 10 g, 20 g, 50 g, 100 g, 300 g, 500 g, 1000 g
Лекарственная форма
Powder for oral use
Регистрационное удостоверение №
АВ-09436-01-21
Фармакотерапевтическая группа
Anthelmintic veterinary drugs.
Показания
Albendazole is used for treatment and prophylaxis of invasive diseases caused by:
in cattle, sheep, goats:
– gastrointestinal nematodes: Haemonchus contortus, Haemonchus placei, Oesophagostomum venulosum, Oesophagostomum columbianum, Oesophagostomum radiatum, Nematodirus filicollis, Nematodirus spathiger, Chabertia ovinа, Bunostomum trigonocephalum, Bunostomum phlebotomum, Trichuris ovis, Trichuris skrjabini, Strongyloides papillosus, Ostertagia spp., Trichostrongylus axei, Trichostrongylus colubriformis, Cooperia oncophora;
– lung nematodes: Dictyocaulus filaria, Dictyocaulus viviparus;
– cestodes: Moniezia expansa, Moniezia benedeni, Moniezia autumnalia, Thysaniezia giardi;
– trematodes (mature stage): Fasciola hepatica;
in horses:
– gastrointestinal nematodes: Parascaris equorum, Oxyuris equi, Strongylidae and Trichonematidae families;
– lung nematodes: Dictyocaulus arnfieldi;
– cestodes: Anoplocephala spp., Paranoplocephala mamillana;
in dogs, cats and fur animals:
– gastrointestinal nematodes: Toxocara canis, Toxascaris leonina, Uncinaria stenocephala, Ancylostoma caninum, Trichuris canis;
– cestodes: Dipylidium caninum, Taenia spp;
– trematodes: Opisthorchis felineus.
Противопоказания
Individual sensitivity to drugs of the benzimidazole group.
Use with caution in cattle, sheep and goats during pregnancy and lactation; do not exceed therapeutic doses especially in the first month of pregnancy.
Do not use in sows and bitches in the first trimester of pregnancy and in bitches during lactation.
Do not use in sick and exhausted animals.
Do not use with renal, hepatic impairment and with hematopoietic system disorders.
Do not use in acute fasciolasis.
Do not use concurrently with other anthelmintic veterinary drugs.
Pharmaceutical characteristics
Основные физико-химические свойства
White or almost white powder.
Условия хранения
At dark place at temperature not exceeding 25 °С. Keep out of reach of children.
Производитель
PJSC «Technolog».
Местонахождение
8, Stara Prorizna st.,Uman 20300 Cherkasy region, Ukraine.