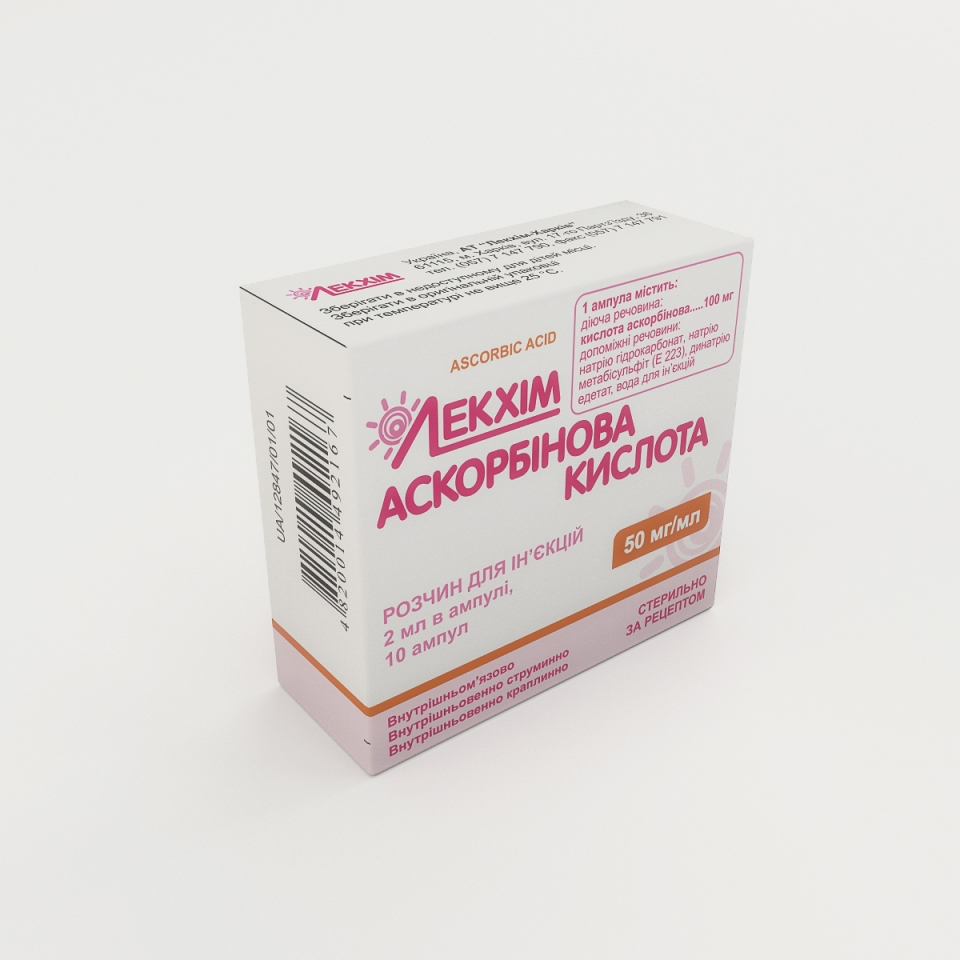 50 mg/ml, 2 ml № 10, № 100
Лекарственная форма
Solution for injections
Регистрационное удостоверение №
UA/12847/01/01
Фармакотерапевтическая группа
Common preparations of ascorbic acid. Ascorbic acid (vitamin C).
Показания
Hypovitaminosis C; scurvy, bleeding (uterine, pulmonary, nasal, liver), hemorrhagic diathesis, bleeding as radiation sickness syndrome, a variety of toxic and infectious diseases, nephropathy of pregnancy, addisonian crisis, overdose of anticoagulants, broken bones and poorly granulating wounds, various dystrophies, pregnancy and nursing breast, increased mental stress and hard physical labor.
Противопоказания
Individual hypersensitivity to ascorbic acid or any of theexcipients of the drug; diabetes, excessive blood clotting, liability to thrombosis, thrombophlebitis, urolithiasis (including hyperoxaluria), renal failure, progressive malignant disease, hemochromatosis, thalassemia, polycythemia, leukemia, sideroblastic anemia, sickle cell anemia, a deficiency of glucose-6-phosphate dehydrogenase.
Pharmaceutical characteristics
Основные физико-химические свойства
Clear, colorless or slightly yellowish liquid.
Условия хранения
Store in original packaging at a temperature not exceeding 25 °C.
Keep out of the reach of children.
Производитель
PJSC "Lekhim-Kharkiv".
Местонахождение
36, Severyna Pototskoho St., 61115 Kharkiv, Ukraine.