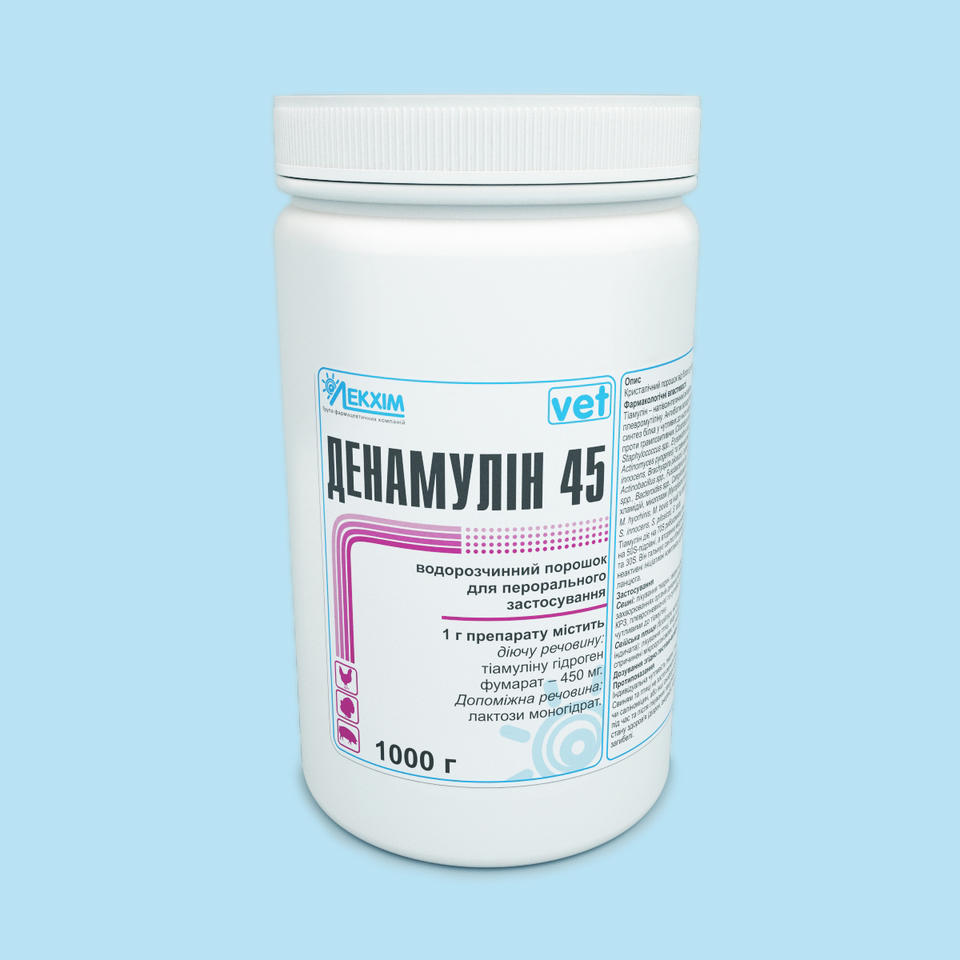 10 g, 20 g, 50 g, 100 g, 300 g, 500 g, 1000 g
Dosage form
Water soluble powder for oral use
Marketing authorisation no.
АВ-08744-01-19
Pharmacotherapeutic group
Antibacterial veterinary drugs for systemic use.
Indications
Pigs: treatment of animals with dysentery, as well as respiratory diseases (a complex of respiratory diseases - HRH, pleuropneumonia) and joints caused by microorganisms sensitive to tiamulin.
Poultry (broilers, poultry juveniles, laying hens, turkeys and turkey poults): treatment of a bird sick with respiratory diseases caused by microorganisms sensitive to tiamulin.
Contraindications
Individual sensitivity of animals and birds to the components of the drug.
Pigs and birds should not use products that contain monensin, narasin or salinomycin or other ionophore coccidiostatics at least 7 days before, during and after treatment with tiamulin. This can lead to poor health (diarrhea, anorexia, paresis, nephrotoxic effects) or even death.
Do not use simultaneously with antibiotics of the aminoglycoside series. Do not use with breeding boars. Do not use for impaired liver and kidney function. Do not use for prophylactic purposes, as well as in the identification of pathogen-resistant strains of thiamulin.
Pharmaceutical characteristics
Basic physical and chemical properties
Crystalline powder from white to light yellow.
Storage conditions
Dry dark place inaccessible to children at a temperature of 15 °C to 25 °C. After dissolving in water, the solution must be used within 24 hours. Shelf life after opening the primary packaging is 3 months.
Manufacturer
PJSC «Technolog».
Location
8, Stara Prorizna st.,Uman 20300 Cherkasy region, Ukraine.