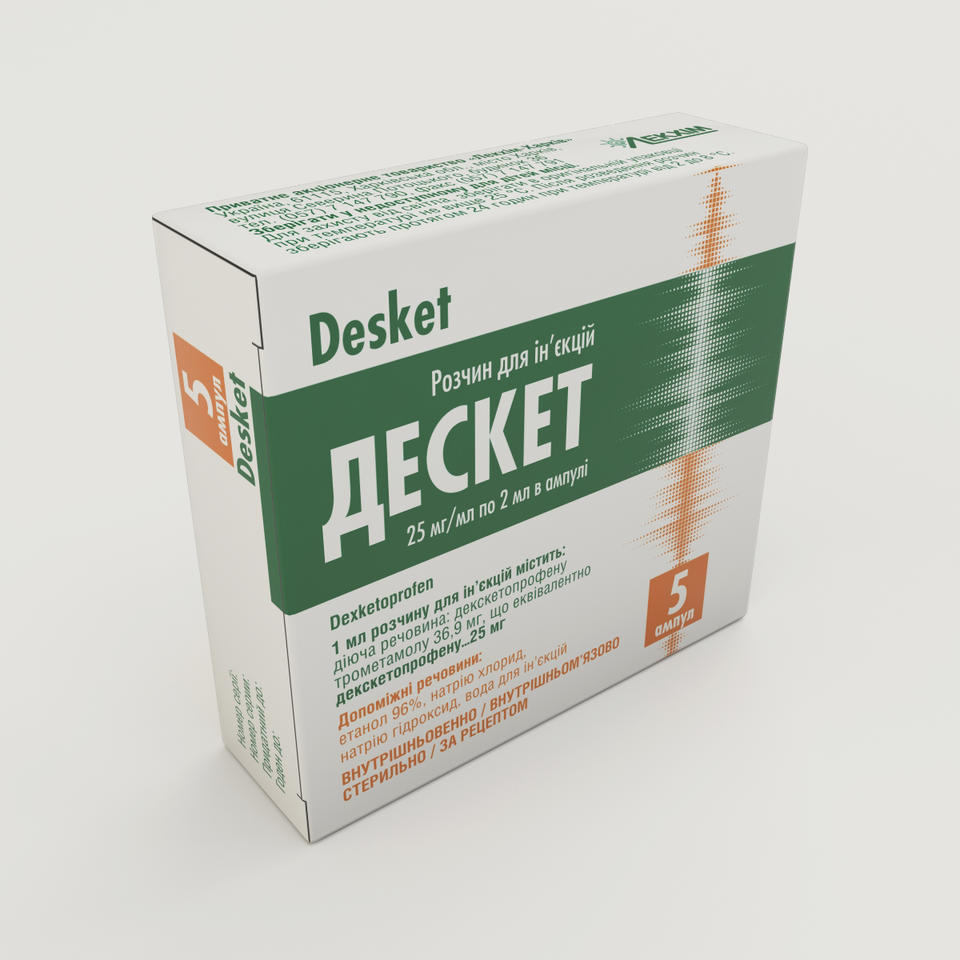 Лекарственная форма
Solution for injections
Регистрационное удостоверение №
UA/16764/01/01
Фармакотерапевтическая группа
Nonsteroidal anti-inflammatory and antirheumatic products. Propionic acid derivatives. Dexketoprofen.
Показания
Symptomatic treatment of acute pain of medium and high intensity in cases where oral administration of the drug is impractical, for example, for postoperative pain, renal colic and lower back pain (back pain).
Противопоказания
Hypersensitivity to dexketoprofen, to any other non-steroid anti-inflammatory agent (NSAID) or to the excipients of the drug;
if substances of similar action, for example, acetylsalicylic acid or other NSAIDs provoke the development of attacks of asthma, bronchospasm, acute rhinitis or cause the development of nasal polyps, the appearance of urticaria or angioedema;
in the active phase of a peptic ulcer or in case of bleeding, suspicion of them or in case of a recurrent peptic ulcer or bleeding in history (at least two confirmed facts of an ulcer or bleeding) or chronic dyspepsia;
With gastrointestinal bleeding, other bleeding in the active phase or with increased bleeding;
with gastrointestinal bleeding or perforation in history, associated with previous NSAID therapy;
with Crohn's disease or with ulcerative colitis;
with bronchial asthma in history;
With severe heart failure;
in case of impaired renal function of moderate or severe (creatinine clearance <50 ml / min);
with severe liver dysfunction (10-15 points on the Child-Pugh scale);
with hemorrhagic diathesis and other bleeding disorders;
in the third trimester of pregnancy and during breastfeeding;
use for the purpose of neuroaxial (intrathecal or epidural administration
(due to ethanol content).
Pharmaceutical characteristics
Основные физико-химические свойства
Clear, colorless solution.
Условия хранения
To protect from light, store in the original packaging at a temperature not higher than 25 °C. After dilution, the solution is stored for 24 hours at a temperature of from 2 to 8 °C. Keep out of the reach of children.
Производитель
PJSC "Lekhim-Kharkiv".
Местонахождение
36, Severyna Pototskoho St., 61115 Kharkiv, Ukraine.