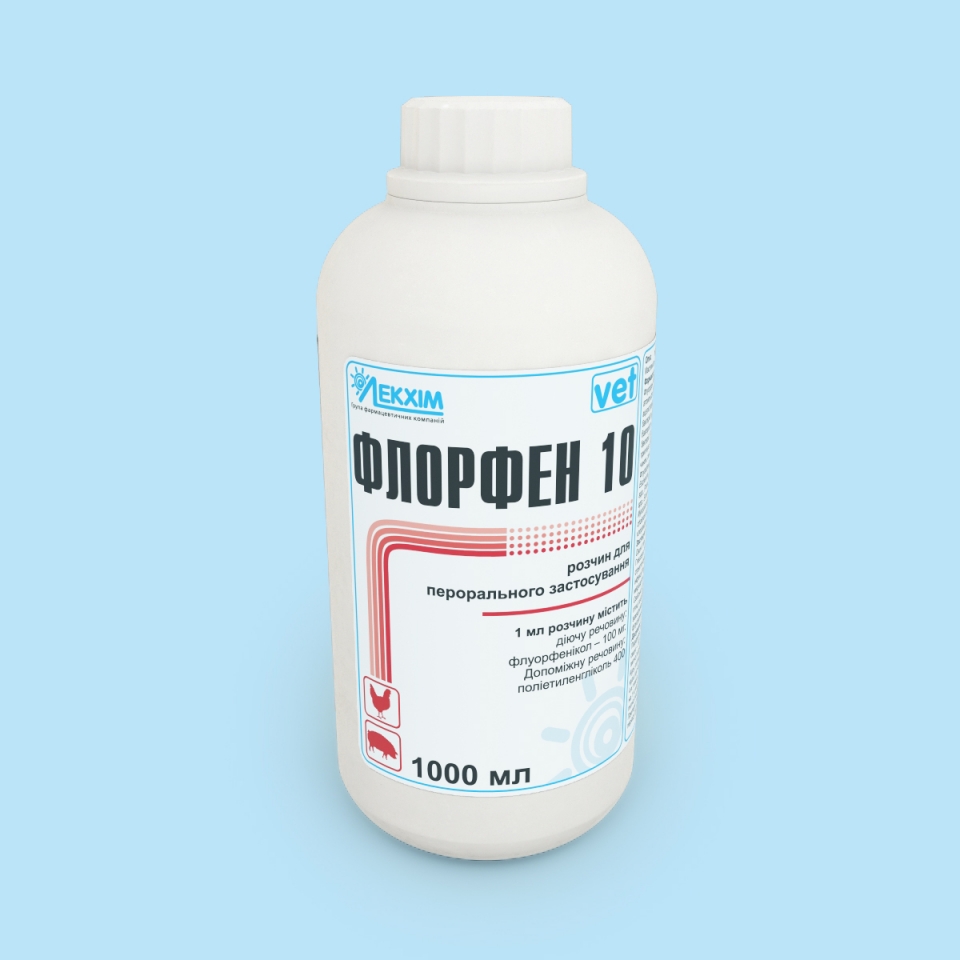 Dosage form
Oral solution
Marketing authorisation no.
АВ-07235-01-17
Pharmacotherapeutic group
Antibacterial veterinary drugs for systemic use.
Indications
Pigs: treatment of animals suffering from pleuropneumonia, atrophic rhinitis, Gleesser's disease (hemophilic polyserositis), pasteurellosis, diplikokovu septicemia, streptococcal and staphylococcal infection, mycoplasmosis, secondary bacterial infections in viral pathology, and diseases caused by microorganisms sensitive to fluorophenicol. Poultry (broiler chickens, breeding chickens, repair young): treatment of poultry with sick coli-septicemia, staphylococcal infection, pasteurellosis, and respiratory diseases caused by microorganisms sensitive to fluorophenicol.
Contraindications
Individual sensitivity of animals and poultry to the components of the preparation. Do not use simultaneously with Thiamphenicol or chloramphenicol. Do not use the sows during pregnancy and lactation, as well as adult boars intended for reproduction. It is not allowed to use hens-laying hens, whose eggs are intended for use in human food. Do not use for violations of the liver and kidneys.
Pharmaceutical characteristics
Basic physical and chemical properties
Oily transparent solution of golden yellow color.
Storage conditions
A dark, inaccessible place for children at a temperature of 10 °C to 25 °C. Do not freeze. After the first withdrawal from the vial, the drug should be used for 21 days, under storage conditions in a dark place at a temperature of 10 °C to 25 °C. After dissolution in water, the solution must be used within 24 hours.
Manufacturer
PJSC «Technolog».
Location
8, Stara Prorizna st., Uman 20300 Cherkasy region, Ukraine.