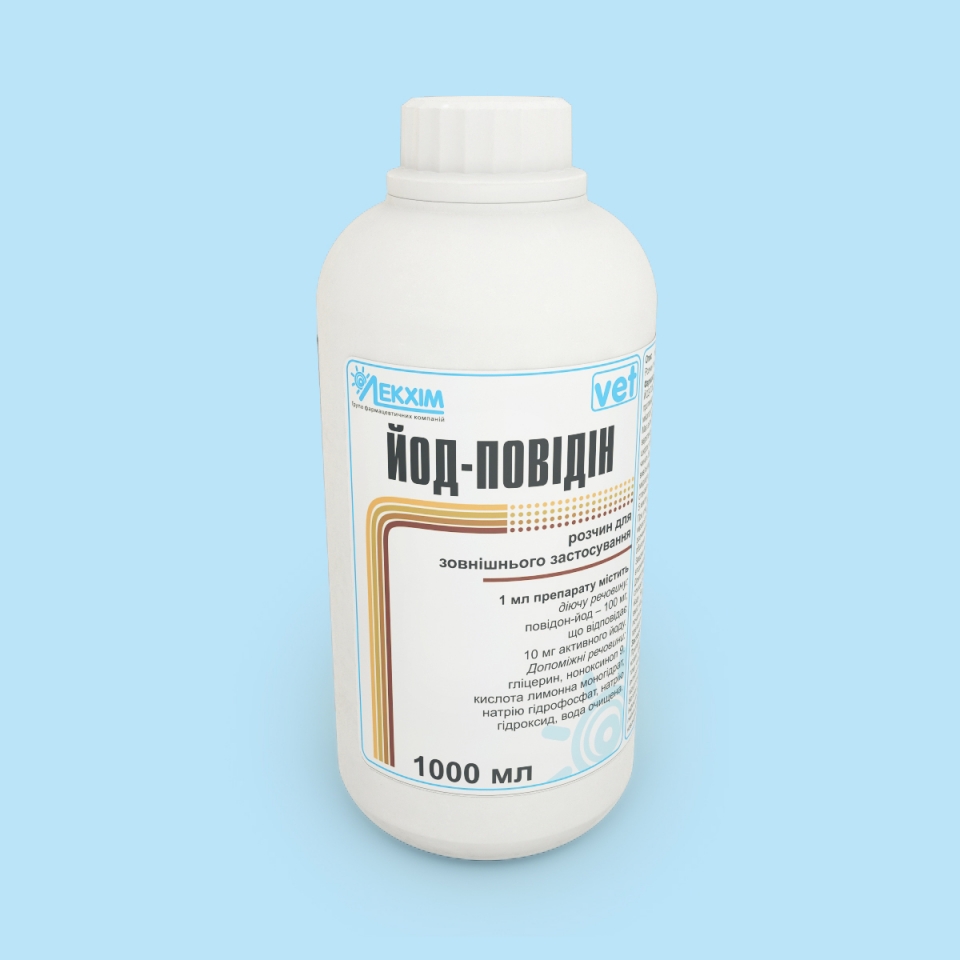 50 ml, 100 ml, 200 ml, 600 ml, 1000 ml
Лекарственная форма
Solution for external administration
Регистрационное удостоверение №
АВ-07490-03-18
Фармакотерапевтическая группа
Antiseptics and disinfectants. Povidon-iodine.
Показания
The medication is used in cattle, horses, pigs, sheep, goats, dogs, cats for antiseptic treatment of wounds, burns, ulcers, including trophic ulcers. For hands disinfection (hygienic and surgical) and antiseptic treatment of skin and mucous membranes, for example, before surgical operations, obstetric procedures, castration, biopsy, injections, puncture, blood collection. For disinfection in infectious dermatitis and fungal diseases, papillomas, purulent lesions. It can be used for umbilical cord treatment in newborn animals, for disinfection of extremities in necrobacteriosis.
Противопоказания
Do not use in animals sensitive to the product or its components.
Do not use in animals with renal disorders.
Hyperthyroidism and other disorders of the thyroid gland.
Pharmaceutical characteristics
Основные физико-химические свойства
Solution of dark brown color with iodine smell, without precipitations.
Условия хранения
Keep away from children. Store in dark place under the temperature from 5 ºС to 25 ºС.
Производитель
PJSC «Technolog».
Местонахождение
8, Stara Prorizna st., Uman 20300 Cherkasy region, Ukraine.