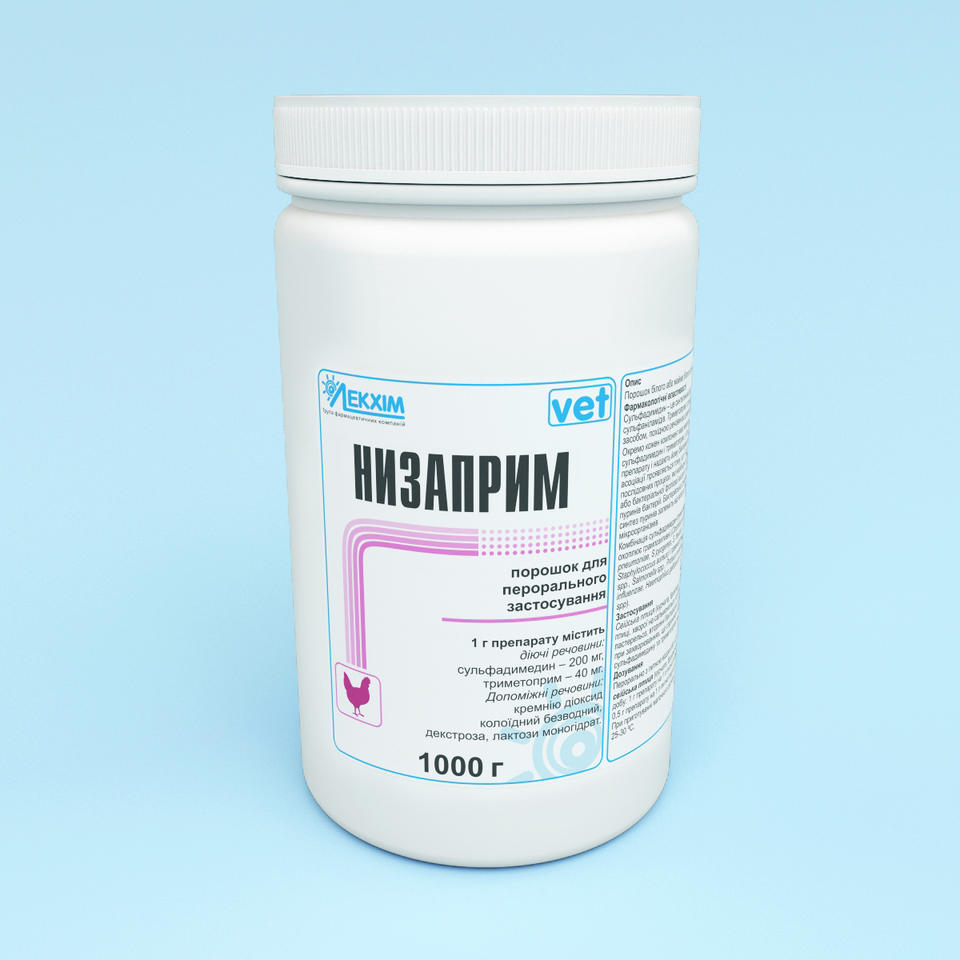 10 g, 20 g, 50 g, 100 g, 300 g, 500 g, 1000 g,
Лекарственная форма
Powder for oral use
Регистрационное удостоверение №
АВ-08639-01-19
Фармакотерапевтическая группа
Antibacterial veterinary drugs for systemic use.
Показания
Poultry (chickens, broilers, repair young animals): treatment of bird suffering from salmonellosis, colibacteriosis, streptococcal infection, pasteurellosis, secondary bacterial infections in viral pathology, as well as in diseases caused by microorganisms sensitive to sulfadymedin and trimethoprim.
Противопоказания
The individual sensitivity of the bird to the components of the drug. Do not use for impaired liver and kidney function.
Do not use for prophylactic purposes, as well as if pathogen strains resistant to sulfadimedin and trimethoprim are indentified.
Do not use in laying hens if eggs are intended for human consumption. Do not use simultaneously with p-aminobenzoic acid and folates.
Pharmaceutical characteristics
Основные физико-химические свойства
White or almost white powder.
Условия хранения
At dry dark place at temperature 5 °C to 25 °C. Keep out of reach of children.
After dissolving in water, the solution must be used within 24 hours.
After the first opening of the container, subject to storage conditions, the drug can be used in accordance with the expiration date.
Производитель
PJSC «Technolog».
Местонахождение
8, Stara Prorizna st., Uman 20300 Cherkasy region, Ukraine.