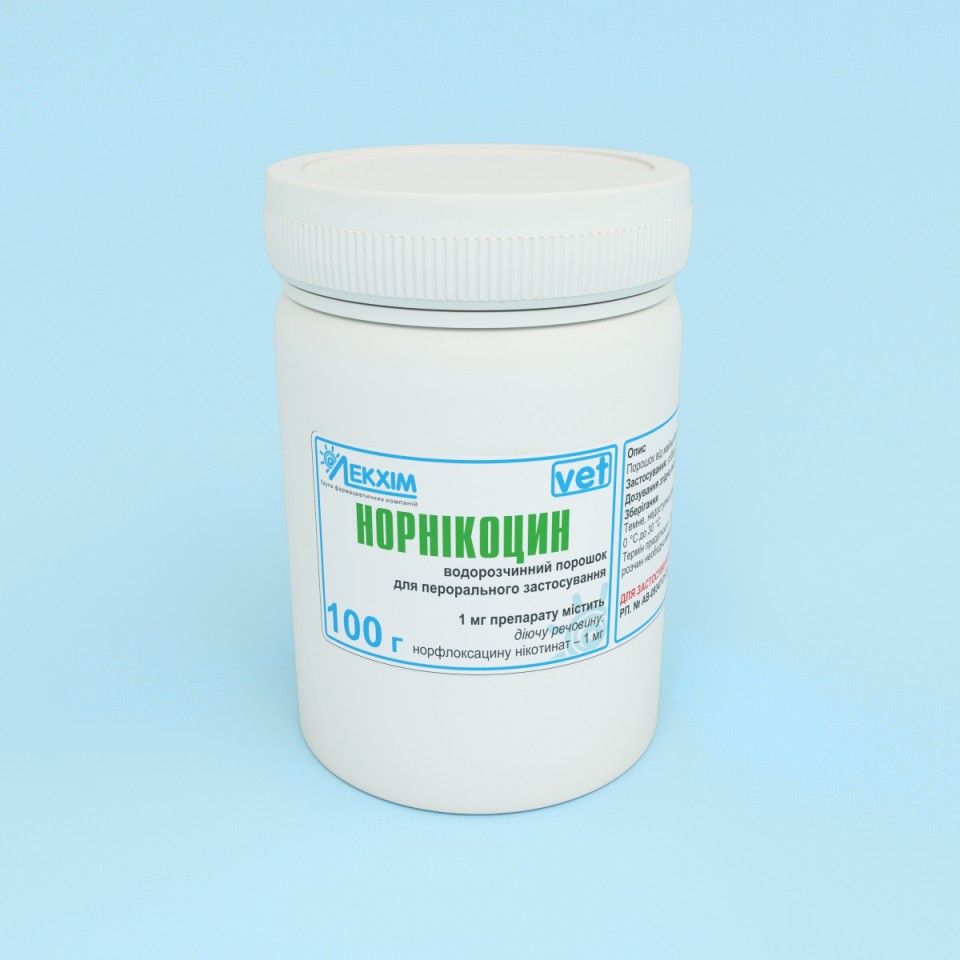 Dosage form
Water soluble powder for oral use
Marketing authorisation no.
АВ-09347-01-20
Pharmacotherapeutic group
Antimicrobial veterinary drugs for systemic use.
Indications
Dogs and cats: treatment of animals with septicaemia, arthritis, polyarthritis, meningitis, mastitis, dermatitis, secondary bacterial infections with viral pathogenesis, as well as respiratory diseases (tonsillitis, tracheitis, pneumonia, bronchitis, rhinitis, sinusitis, bronchopneumonia), diseases of gastrointestinal tract (gastritis, enteritis), genito-urinary diseases (nephritis, pyelitis, pyelonephritis, urethritis, metritis, urocystitis), peritonitis caused by microorganisms susceptible to norfloxacin.
Contraindications
Do not administer to animals with hypersensitivity to norfloxacin or any excipients.
Do not administer to animals with impaired renal and liver function.
Do not use concurrently with drugs containing magnesium, calcium, aluminum, as well with tetracyclines, macrolides, ciclosporins, lincosamides, chloramphenicol, and non-steroidal anti-inflammatory drugs.
Do not administer to small-breed dogs – until 8 months of age, to large-breed dogs – until 18 months of age, to cats – until 8 months of age, as norfloxacin negatively influences the formation of cartilaginous and bone tissues.
Do not use for prophylaxis, as well as when strains of the pathogen resistant to norfloxacin are detected.
Pharmaceutical characteristics
Basic physical and chemical properties
Powder from almost white to light yellow color.
Storage conditions
At dark place at temperature 0 °С to 30 °С. Keep out of reach of children. After dissolution in water, the solution should be used within 24 hours.
Manufacturer
PJSC «Technolog».
Location
8, Stara Prorizna st.,Uman 20300 Cherkasy region, Ukraine.