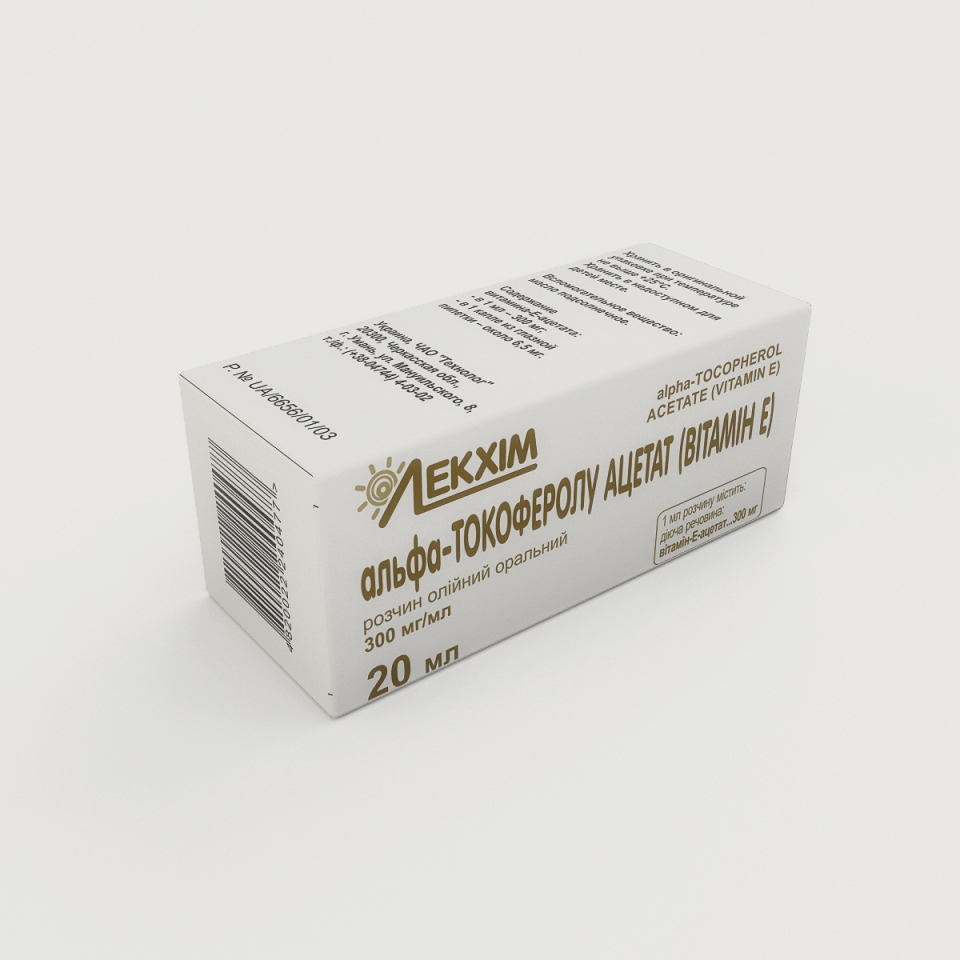 Alpha-tocopherol acetate (vitamin E)
Dosage form
Oral oil solution
Marketing authorisation no.
UA/6656/01/03
Pharmacotherapeutic group
Other simple formulations of vitamins. Tocopherol (vitamin E).
Indications
Treatment of muscular dystrophy of different nature and origin, joint and tendon-muscle contracture (Dupuytren's contracture), spinal cord injury (amyotrophic lateral sclerosis), systemic connective tissue diseases (rheumatoid arthritis, dermatomyositis, rheumatism and fibrosis), disorders of the male sex glands and menstrual cycle, threatened miscarriage. For children tocopherol is used to treat hemolytic jaundice, increased capillary permeability in infants, malnutrition, rickets, developmental disorders, systemic connective tissue diseases (scleroderma, juvenile rheumatoid arthritis), hypochromic anemia. In the complex therapy of peripheral vascular disease, atherosclerosis, myocardial dystrophy, hypertension, allergies, and ulcerative skin lesions, psoriasis, endocrine diseases of the thyroid gland, diabetes, periodontal disease, pathologies requiring antioxidant therapy.
Contraindications
Individual hypersensitivity to the drug, heavy cardiosclerosis, myocardial infarction.
Pharmaceutical characteristics
Basic physical and chemical properties
Transparent oily liquid from light yellow to dark yellow in color, with no rancid smell. A greenish tint is allowed.
Storage conditions
Store in original packaging at a temperature not exceeding 25 °C.
Keep out of the reach of children.
Manufacturer
PJSC «Technolog».
Location
8, Stara Prorizna st., Uman 20300 Cherkasy region, Ukraine.