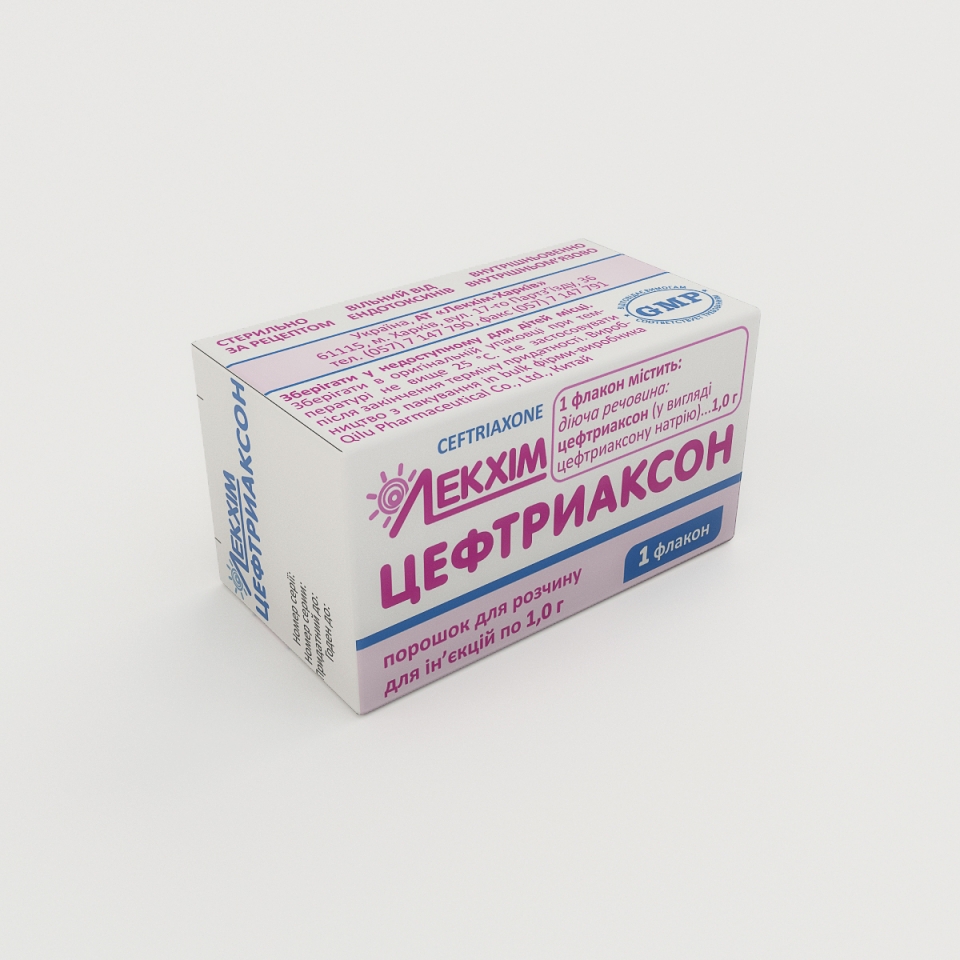 Лекарственная форма
Solution for injections
Регистрационное удостоверение №
UA/13240/01/01
Фармакотерапевтическая группа
Antibacterials for systemic use. Other beta-lactam antibiotics. III generation cephalosporins. Ceftriaxone.
Показания
Ceftriaxone is used for the treatment of infections the pathogens of which are susceptible to ceftriaxone:
Perioperative prophylaxis of infections in surgical interventions on the organs of the gastrointestinal tract, biliary tract, urinary tract, and during gynecological procedures, but only in cases of potential or known contamination.
In the prescribing of ceftriaxone must be adhered to the official recommendations for antibiotic therapy and, in particular, the recommendations for the prevention of antibiotic resistance.
respiratory tract infections, particularly pneumonia, and ear infections, throat and nose;
abdominal infections (peritonitis, biliary tract infections, and gastrointestinal tract);
of the kidneys and urinary tract infections;
genitals infections, including gonorrhea;
sepsis;
infections of bones, joints, soft tissue, skin and wound infection;
infections in patients with weakened immune systems;
meningitis;
disseminated Lyme borreliosis (stage II and III);
Противопоказания
Hypersensitivity to cephalosporins, penicillins and other beta-lactam antibiotics in anamnesis, to lidocaine or other local anesthetic drugs amide (for intramuscular injection). Ceftriaxone is contraindicated in premature babies up to 41 weeks in view of the period of fetal development (gestational age + postnatal age).
hyperbilirubinemia in neonates and prematurity. Ceftriaxone can displace bilirubin from its association with albumin serum, which can lead to the risk of encephalopathy caused by bilirubin.
Ceftriaxone is contraindicated in neonates up 28 days if required (or expected need) treatment with intravenous solutions containing calcium, including the intravenous injections of calcium, such as parenteral nutrition, due to the risk of precipitates of calcium ceftriaxone salt.
There are cases of ghenerating in lungs and kidneys of newborn and premature infants of precipitates, leading to death, while the introduction of ceftriaxone and calcium preparations. In some of these cases received the same infusion systems for intravenous administration of ceftriaxone and solutions containing calcium, and in some infusion systems for intravenous administration were observed occurrence of precipitates.
ceftriaxone must not be used with solutions comtaiting calcium (Ringer's solution). Solutions comtaiting calcium should not be administered within 48 hours after the last administration of ceftriaxone.
Pharmaceutical characteristics
Основные физико-химические свойства
Crystalline powder of almost white or white with a yellowish tinge color.
Условия хранения
Keep out of reach of children in the original packaging at a temperature not exceeding 25 °C.
Производитель
PJSC "Lekhim-Kharkiv".
Местонахождение
36, Severyna Pototskoho St., 61115 Kharkiv, Ukraine.