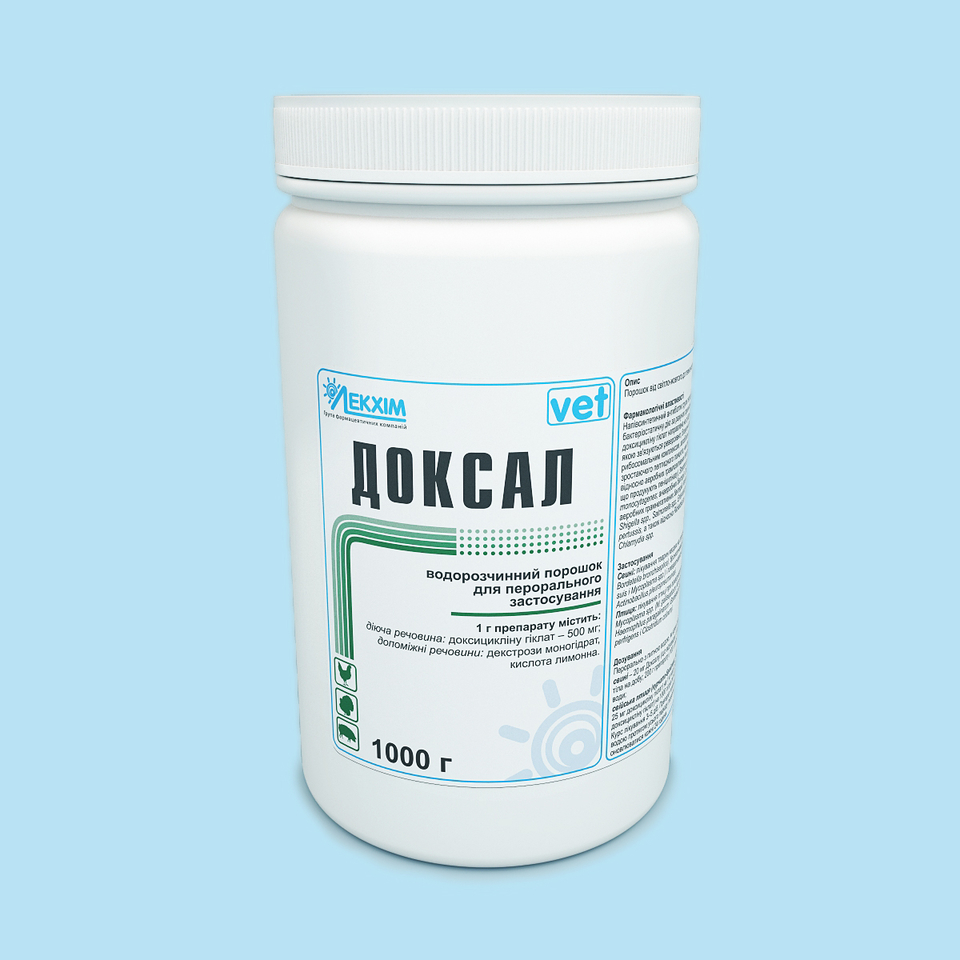 Лекарственная форма
Water soluble powder for oral use
Регистрационное удостоверение №
АВ-07070-01-17
Фармакотерапевтическая группа
Antimicrobial veterinary products for systemic use.
Показания
Pigs: treatment of animals with atrophic rhinitis, bronchopneumonia and pleuropneumonia caused by microorganisms sensitive to Doxycycline (P asteurella multocida, Streptococcus suis і Mycoplasma spp., Haemophilus pleuropneumonia,eActinobacillus pleuropneumoniae).
Poultry (broiler chickens, turkeys): treatment of poultry with respiratory and digestive tract diseases caused by microorganisms sensitive to Doxycycline (Mycoplasma spp. (М gallisepticum, М synoviae і М ·мelagridis), Escherichia coli, Haemophilus paragalinarum and Bordetella avium, Clostridium perfrigens і Clostridium colinum).
Противопоказания
Individual hypersensitivity to Doxycycline or to any of the excepients. Do not use in animals with liver and kidneys disorders.
Do not use in laying chickens if eggs are intended for human consumption.
Do not use simultaneously with antibiotics of the penicillin group, cephalosporins, quinolones andcycloserine.
Do not use together with kaolin and substances containing metal ions (antacids, preparations containing Mg2+, АІ3+, Са2, Zn2, Fe3.
Do not use in breeding pigs in pregnancy and lactation.
Pharmaceutical characteristics
Основные физико-химические свойства
Powder from light yellow to dark yellow color.
Условия хранения
Keep away from children. Store in the original package, in dry dark place under the temperature from 10 ºС to 25 ºС.
Once the container is used for the first time, use the medicinal product according to the shelf life. When dissolved, use the solution within 24 hours.
Производитель
PJSC «Technolog».
Местонахождение
8, Stara Prorizna st.,Uman 20300 Cherkasy region, Ukraine.