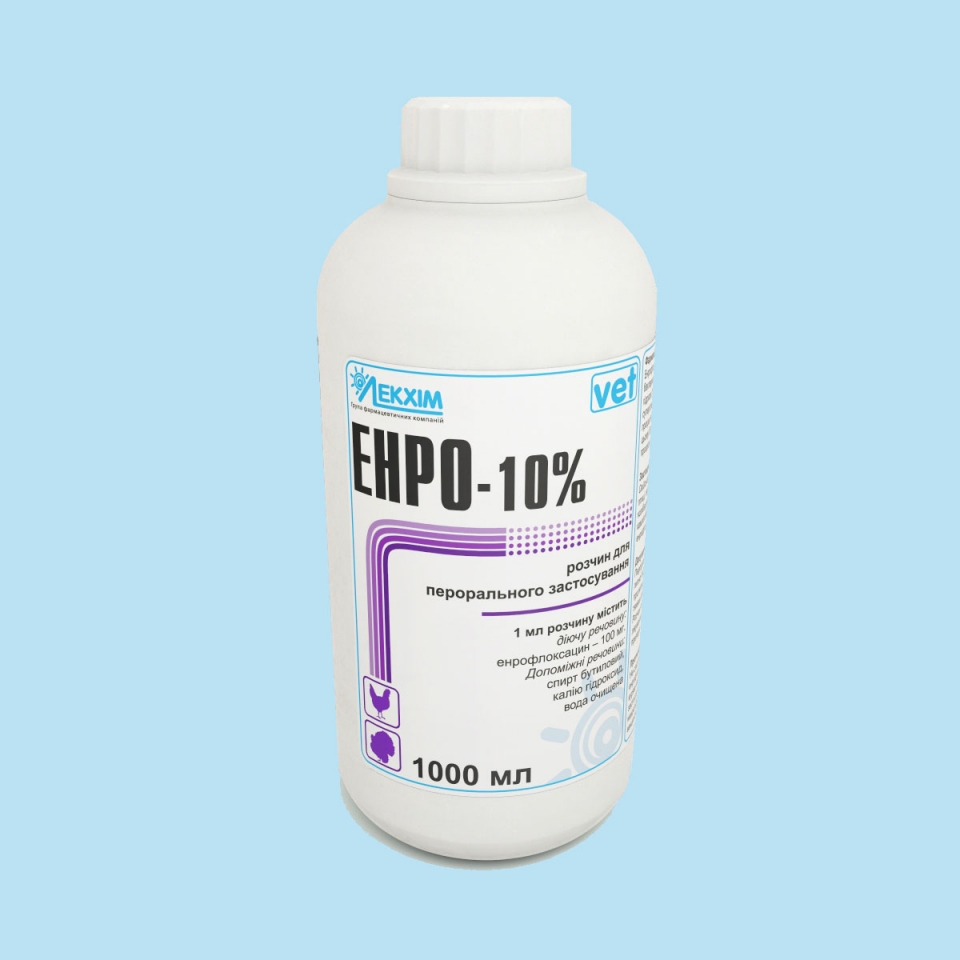 Dosage form
Oral solution
Marketing authorisation no.
АВ-06879-01-17
Pharmacotherapeutic group
Antimicrobial veterinary products for systemic use.
Indications
Poultry (chickens, chickens of breeding stock, broilers, turkeys): treatment of poultry with mycoplasmosis, chronic respiratory infections (CRD), colibacillosis, pasteurellosis, salmonella, staphylococcosis and campylobacteriosis, caused by microorganisms sensitive to Enrofloxacin.
Contraindications
Do not use in animals highly sensitive to Enrofloxacin or any of the components.
Do not use in laying chickens if eggs are intended for human consumption.
Do not use simultaneously with tetracycline preparations, macrolides, chloramphenicol, theophylline, do not mix with the Marek vaccine.
Do not use simultaneously with drugs containing cations Mg2+, Al3+, Ca2+, as this interrupts absorption of Enrofloxacin.
Do not use as a preventive remedy; do not use if the resistant strains of the pathogen are detected.
Pharmaceutical characteristics
Basic physical and chemical properties
Clear solution from light yellow to dark yellow color.
Storage conditions
Keep away from children. Store in dark place under the temperature from 5 ºС to 25 ºС.
Once the vial is used for the first time, the drug during 26 months, providing it is kept in dark place under the temperature from 5 ºС to 25 ºС.
When dissolved in water, use the solution within 24 hours.
Manufacturer
PJSC «Technolog».
Location
8, Stara Prorizna st., Uman 20300 Cherkasy region, Ukraine.