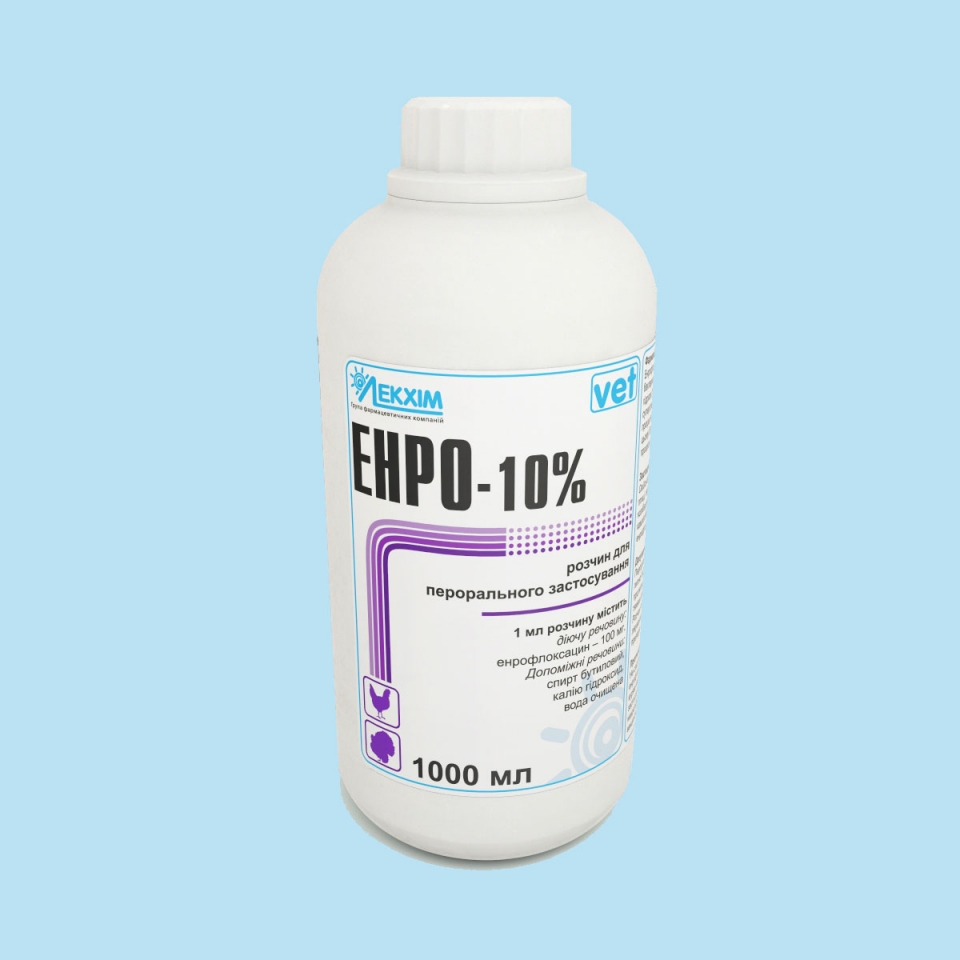 Dosage form
Oral solution
Marketing authorisation no.
АВ-06879-01-17
Pharmacotherapeutic group
Antibacterial veterinary drugs for systemic use.
Indications
Poultry (chickens, chicken, broilers, turkeys): poultry treatment, mycoplasmosis, chronic respiratory infections (CRD), colibacillosis, pasteurellosis, salmonellosis, staphylococcosis and campylobacteriosis caused by microorganisms sensitive to enrofloxain.
Contraindications
Do not apply the drug to animals with increased sensitivity to enrofloxacin or to any of the components. Do not apply to laying hens whose eggs are intended for human consumption. Do not use simultaneously with tetracycline drugs, macrolides, chloramphenicol, theophylline, do not mix with Marek's vaccine. Do not use concomitantly with preparations containing Mg2+, Al3+, Ca2+ cations in their composition, as this disrupts the absorption of enrofloxacin. Do not use for prophylactic purposes, as well as for the detection of resistant strains of the pathogen.
Pharmaceutical characteristics
Basic physical and chemical properties
Transparent solution from light yellow to dark yellow color.
Storage conditions
A dark, inaccessible place for children at a temperature of 5 °C to 25 °C. After the first withdrawal from the vial, the drug should be used for 26 days, under storage conditions in a dark place at a temperature of 5 °C to 25 °C. After dissolution in water, the solution must be used within 24 hours.
Manufacturer
PJSC «Technolog».
Location
8, Stara Prorizna st., Uman 20300 Cherkasy region, Ukraine.